First of all, Nextdoor is a social platform, a social platform for communication between neighbors in the community.
A Nextdoor app is software developed on this platform, which is convenient for everyone to use their mobile phones to publish Post on the platform.
After all, we can't log in to the Nextdoor website with a computer every day.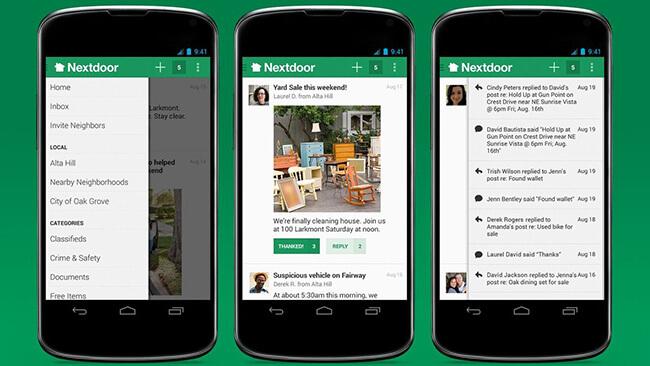 However, the difference in this application is that it connects nearby people and displays local news, where you can connect with friends and relatives.
So, the Nextdoor app helps you connect with newcomers and enables you to exchange suggestions between neighbors.
In addition, it is also a good business platform, which can support nearby local companies and obtain the latest information from public institutions or establish a personal business brand on the platform.
The Nextdoor app is compatible with iOS and Android; you only need to download and log in with your details to use it.
10 Reasons Why You Should Download The Nextdoor App
There are many reasons you should download the app to get the latest information about your community. These reasons are mentioned below, and please check them.
You can monitor or obtain security announcements in the community at any time.

Information from community service providers or classified ads.

Keep abreast of news or exciting events or announcements around you.

You can build a personal business brand and easily buy and sell items.

Invite neighbors and family members to join the Nextdoor app.

Neighbors met on the platform are all authenticated by real names.

Recognize and understand your actual neighbors in multiple dimensions.

We can think of the platform as a community entertainment club.

Easily get job opportunities in the community.

The application is compatible with iOS and Android devices.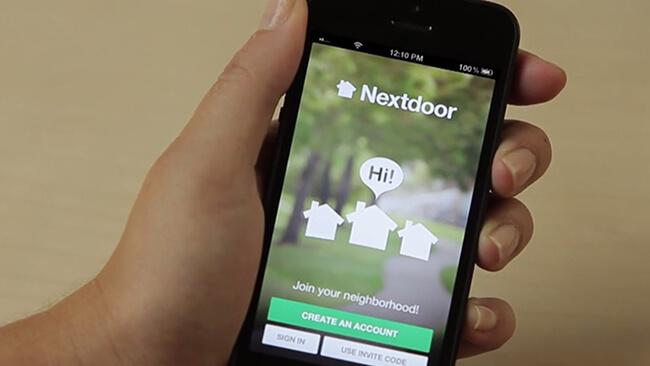 How To Login/Download/Use Nextdoor App It
Nextdoor App Download
To use the Nextdoor app. First, download it for your smartphone.
Sign Up And Login
After downloading the Nextdoor app, you can easily register with your address and log in with a new username or Facebook/Gmail account.
You need to verify your address before joining the Nextdoor community. It should be noted that the registration on the platform must be your accurate information.
Your Phone number.

Credit or debit card billing address.

Social security number.

Using Leads to have other verified members vouch for you.

Accepting an email invitation from a verified neighbor.

A third-party service called LexisNexis can validate your home address using your email address.

A postcard from Nextdoor.
How To Use The Nextdoor App
Using the Nextdoor app is a straightforward process, just like we use any social app.
Anyone can use it without any restrictions.
To use the app, you need to know how to post on Nextdoor and communicate with people nearby.

After publishing, you can search for posts in different categories.

Use the group tab to create a group or join a group.

You can also find your neighbors by street or block details and contact them under the neighbors' tab.

There is a pet tag, which is a catalog of pets owned by neighbors. It can help you find the owner through pet photos.

The notification tab will remind you and update what happened near you.

You can also update your personal information with the description and detailed information, stating how long you have lived nearby, what you do, your work life, and hobbies.

Easily add family members who have a Nextdoor account.
Nextdoor App Useful Questions
By default, the Nextdoor application does not display the full address.
Therefore, it simply indicates the street name on the user's profile.
However, if users want to display the full address, they can change their settings tab settings.
Is Nextdoor Legal And Safe To Use App?

Yes, the Nextdoor application is safe and legal, and it verifies the user before or before using the application. The application is also securely encrypted using the HTTPS internet protocol, so there is no need to worry.

Can I Become Anonymous On The Nextdoor App?

You cannot be completely anonymous on the Nextdoor app, nor should you. However, you can set some privacy settings on your data.

Who Owns The Nextdoor App?

The founders of the app are Nirav Tolia, Prakash Janakiraman, David Wiesen, and Sarah Leary.

And the key people of the app are Sarah Friar(CEO) and Mike Doyle (CFO).

What Is The Meaning Of Green Leaves And Red Leaves On The Nextdoor?

Green leaves indicate neighbors have registered a specific address, and red leaves indicate no one has used it.
Get Recommendations From Nextdoor
The users can get reviews of local businesses like restaurants or any nearby outlets. This helps a lot, and unnecessary time is saved.
Well, the highlighted point in the Nextdoor network is that neighbors engage with each other and build a sense of community that binds them together. More info from How to Get Recommendations in Your Next Door Account.
Add Your Business To The Nextdoor App
There are two options for your business or organization:
Business: Choose this option if there is any business name.
Individual: Choose this option if you are working alone or under your name.
After choosing the needed option for your business, Nextdoor will ask you to fill in other essential details about the page. Click on the – Add your page, and your business profile will be registered with Nextdoor.
Now you can view your business page and engage with your audience. Share it among your neighbors and other related sources nearby.
How To Post On Nextdoor
It functions just like other social media platforms. Postings get your advice and suggestions from your neighbors. To make a post:
Go to your Newsfeed.

Click on Post a message, Event, or any urgent alert for neighbors at the top of your feed.

Choose the type of Post.

Craft your Post accordingly.

Tap Post
How To Create An Event On Nextdoor
Create an event to gather together for a birthday bash or a community meeting.
Go to Newsfeed.

Click on the Event on the left.

Click on Add event on the right.

Choose your Event's privacy, along with the date and time.

Choose a Photo

Post your Event.
How To Create A Group On Nextdoor
It's great to set up a group on a specific topic and discuss it with neighbors and friends who have the same ideas.
This will help you to the group along with other members of the same group.
Go to your Newsfeed.

Click on Browse for all groups.

Click on Create Group.

Fill in all the group information.

Click on Create Group.
Now your neighbors can join your group, where you can discuss anything you want or even promote your business. More info How Do I Join A Group On Nextdoor.
Nextdoor Tips For Businesses
Businesses can get a lot of help and engagements through the Nextdoor Social Network.
Even local governments use this app to interact with their citizens and learn about the issues existing in their community.
Talk to your Neighbours

Announce Major Changes

Prevent Crime

Engage your Community
Conclusion

Nextdoor app is understood as a program on a mobile phone, an iPhone, or an Android phone.
We can publish posts or meet new neighbors on the community platform established by Nextdoor or demonstrate a personal brand to do business with our neighbors through this application.