Through the Nextdoor platform, we can not only easily communicate with our neighbors. Moreover, on Nextdoor, we can carry out our online business.
We all know that both online and offline businesses. We all need to advertise our company.
Today, let's discuss that how to advertise on Nextdoor. This online advertising business.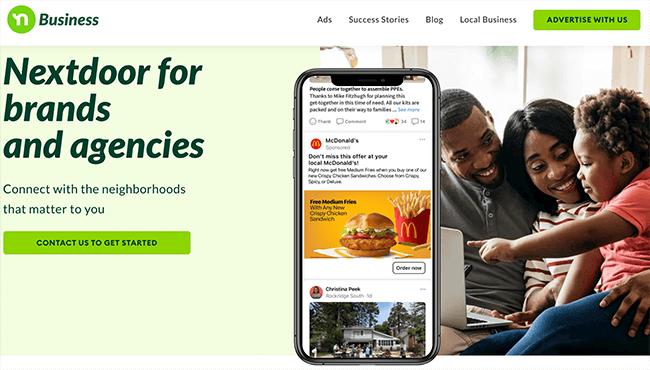 How To Advertise On Nextdoor
According to the Nextdoor official introduction, it is as follows.
As an advertiser on Nextdoor, you can market to local neighborhoods to reach new customers and grow your business. Nextdoor ads enable local companies and regional and national brands to increase awareness in their communities, advertise upcoming events, promote local deals, reach new customers, and more.
Here are two aspects mentioned by Nextdoor officials said:
Reach local customers

Reach customers across multiple markets
The specific choice depends on your business composition. Next, let's take a detailed look at the differences between these two aspects. Thus, you can choose what is more suitable for you.
Reach Local Customers On Nextdoor
If your target customers live locally, within 30 miles of your business, you can advertise with local deals, events, neighborhood sponsorships, and more.
Reach Customers Across Multiple Markets On Nextdoor
If your target customers live in many neighborhoods around the country, you should do the AD with brand advertising on Nextdoor.
How To Create An Advertising Account On Nextdoor
Before you get ready to advertise on Nextdoor, create an account on the platform, verify it, and claim your business. Below you will find all the instructions you need for this process.
You can only claim a business on Nextdoor if you are authorized to represent the company if you are an employee or the owner. Otherwise, it is not going to work.
Go to Nextdoor.com and click 'Local business' under the tap that says 'Business.'

Once you are under the local business page, scroll down and click where it says, 'Claim your free business page.'

Here you will have two options "Neighbour for hire" or "Professional business." You need to click on the second one.

The next step will be creating an account on the platform. If you are already registered, sign in.

Once you have an account, it is time to look for your business. Enter the name and address on the field. When you find it, select it.

There are some cases in which you will not find your business's name on the list. Don't panic. The only thing you need to do is scroll down and click under "Create a new business page with this name."

Then follow along with the platform, and you will get, in the end, a verification code.

Update all your business information (phone number, business hours, website, email, etc.)

Finally, upload a photo and add a description.
Can Anyone Advertise On Nextdoor
My personal feeling is that anyone can advertise their business on Nextdoor. As long as we apply for a Nextdoor account and publish the trust advertise information.
After creating your account, you might start wondering if there are any requirements to advertise on Nextdoor. We are glad you asked because, indeed, there are only certain businesses that can run advertising on Nextdoor.
It would help if you were a realtor/broker or a company with a high advertising budget. Your budget is important because investing in Nextdoor marketing will be more expensive than planning a social media campaign or ads on different websites.
To give you a rough idea, most companies that purchase advertising on Nextdoor are already recognized in the industry, such as Home Depot. However, we will tell you the Nextdoor advertising cost and how it works in the following sections.
Conclusion
We all know that Nextdoor is a platform for activities between neighbors.
Online advertising is undoubtedly as well. We are also allowed to do this on Nextdoor. On the one hand, advertising is paid resource; However, on the other hand, it can also be more convenient to serve our neighbors.
Especially in COVID-19, online advertising on Nextdoor is very suitable for us to carry out business.